A Firsthand Look at Kaanapali Beach Hotel's $75 Million Renovation
After more than a year of pandemic lockdown, I felt a wave of relief as I stepped into the lobby of Kaanapali Beach Hotel. It was exactly as I remembered it: an old-school Hawaii classic featuring cultural artifacts and dozens of images of talented young hula dancers (winners of the hotel's annual Hula O Na Keiki competition). But as I made my way through the property's oceanfront courtyard to my room, it quickly became clear that much had in fact changed since my last visit to Maui.
Set along a 3-mile stretch of sand on the island's west shore, Kaanapali Beach Hotel has long been billed as "Hawaii's Most Hawaiian Hotel." Year after year, travelers seeking an authentic Hawaiian experience have been drawn to the property to take part in cultural activities including outrigger canoe paddling, ukulele lessons and lei-making.
Kaanapali Beach Hotel has never been known for being especially fancy, but fresh off a $75 million, property-wide renovation, its 264 guestrooms in the Papaku South Wing (formerly known as the Kauai Wing) and the Kauhale Southeast Wing (formerly the Lanai Wing) have gone through a modern transformation, making them barely recognizable to even the most loyal repeat visitors.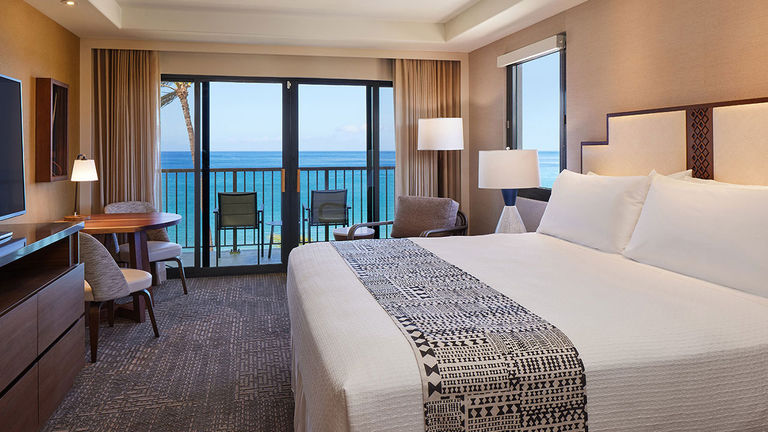 Renovated guestrooms are sleek and modern, but still have a strong sense of Hawaiian culture. Each room features employee-made makamae (precious gifts) shadow boxes that showcase traditional Hawaiian tools, such as makau (fish hooks), luhee (octopus lures) and upena (fishing nets). Framed vintage Hawaiian botanical prints add fun pops of color.
Hawaiian quilt-pattern bedspreads have been replaced with crisp, white linens on comfy king- and queen-size beds; bathrooms are well lit with both rainfall and handheld shower heads. My room in the property's Papaku South Wing boasted glass sliding doors that opened to a balcony with stunning ocean views, a reminder to get outside and start exploring. (For clients who loved Kaanapali Beach Hotel's accommodations just the way they were, 168 traditional guestrooms remain untouched, at least for now.)
Though the reimagined guestrooms are being celebrated, the new beachfront restaurant, Huihui, has the potential to be the star of the property's reimagination. Set steps off the beach, it pairs unobstructed ocean views with a delicious and inventive new menu. Just opened on June 21, the restaurant offers seating for more than 300 people.
"We have an opportunity to take it to a new level that we never have before," said Tom Muromoto, executive chef at Kaanapali Beach Hotel. "We've been waiting a long time to try and get out of the box."
The eatery's signature dish, Poke Holokai, includes fresh mackerel or tuna, crab, fish roe, mayonnaise, avocado, seaweed, wasabi and taro lavash. Inspired by the sails of a Hawaiian sailing canoe, its presentation is worthy of snapping a photo before diving in.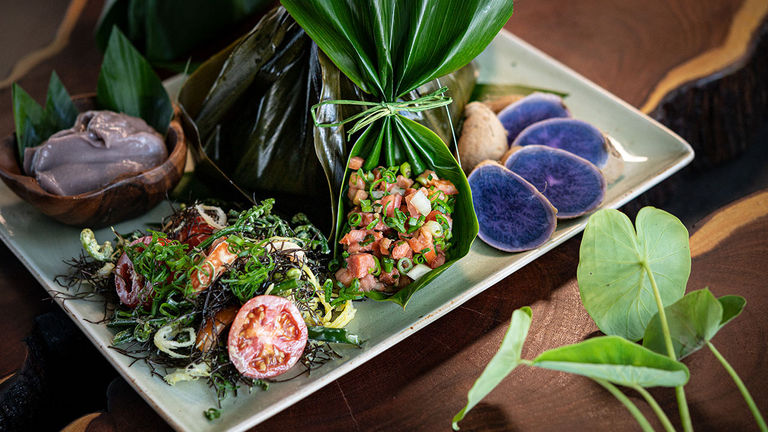 Huihui, meaning "star constellation" or "to join, intermingle, mix," will do double duty as a sailing academy where both guests and local students can learn the traditions of Hawaiian voyaging and wayfinding. Space below the 5,000-square-foot venue will be used to house Kaanapali Beach Hotel's three outrigger canoes.
While Huihui will offer a more formal dining experience, the casual new eatery Welowelo (shooting star) — just steps from the property's much-loved, whale-shaped pool — also opened June 21, serving a variety of dishes ranging from Hawaiian favorite kamano lomi (salted salmon mixed with onions and tomato) to kid-friendly pizza and burgers.
Dozens of other dining and shopping options can be found at nearby Whalers Village, just a five-minute walk from the hotel.
For clients looking to spend as much time as possible in their swimsuits, the Hale Huakai water activities center boasts a knowledgeable staff focused on ocean safety and stewardship. When renting assorted water toys, such as stand-up paddleboards and snorkeling gear, and providing outrigger canoe paddle tours, the staff strives to teach guests about the Kaanapali Beach Resort area and the deep history it holds.
As of press time, guests arriving from outside the state of Hawaii are required to show proof of a negative COVID-19 test at check-in. Masks are required in all of the property's public spaces, except when eating, drinking or in the pool.
Price Based Country test mode enabled for testing United States (US). You should do tests on private browsing mode. Browse in private with Firefox, Chrome and Safari