Industry Insights from our Local Travel Expert: Hai in Hanoi
Hai (front) with a happy group in Ha Long Bay
We continue to delve deep into the lives of our local travel experts to see what we can uncover about our destinations. This time, we hear the story of Hai in Hanoi, of his early infatuation with all things travel, and why he thinks Vietnam is an incredible destination to visit.
Interviewed by George Robinson
A Passion is Born
Let me paint a picture for you.
It's 1994, and we're in Hanoi, Vietnam.
A little boy is invited to go to work with his uncle for the day. His uncle's profession is a bus driver. The boy heaves himself up onto the old chugger, engine vibrating rhythmically. The route? A long-winded windy journey that meanders through the hillside villages to the north of Hanoi.
The boy stares transfixed out the window, past the rolling rice fields. He spots the water buffalo, admires the lush green surroundings, and gazes longingly to the distant majestic mountains on the horizon. When the bus crosses a bridge, he is astounded that the people who get on speak in an unfamiliar language,  wear different clothes, and seem to behave in an unusual manner – unusual for no other reason than that they are foreign to him.
From such journeys, lifelong passions are born. Such is the case for Hai, who so romantically reflects on the origins of his lifelong love affair with travel.
Hai punctures his reverie with a joke: "My dad was a mechanical engineer, and my mum worked in a clinic. They blame my uncle for my wayward path."
"There is a real tradition of respecting your elders in Vietnam. There is a saying: 'Wherever parents place you, lay there'. It's fair to say my parents had grand plans for me that didn't involve guide work, but I had my heart set on working in travel from before I could remember. I had to forge my own path without much encouragement."
I am struck by my interviewee's affinity for a narrative as he considers his inner conflict between filial piety and the pursuit of his passion. Like all the guides I have spoken to, Hai is a master at managing a conversation. He treads the fine line between entertaining and informative, when to drill down on a point and when to pursue a tangent, all with an easy charm.
Local Travel Expert? Not At First…
In his own words, Hai was a failure as a guide at first. At least, that's how he felt.
"My first tour was with a large American-born Vietnamese family. Often, it turns out that those Vietnamese born elsewhere have done a lot of research into their heritage. They knew a lot of information, and I felt that I was inadequate in providing them with a learning experience."
"Really, they were actually teaching me. So, I knew I had to go away and study a bit more so that I was more knowledgeable."
Hai dwells on the idea that he was passionate about travel; he is thankful for that, suggesting that he may have actually quit if it had not been for a steely resolve to make a career in tourism. He studied and progressed, gaining confidence over time. He also came to terms with the dynamic of being a student as well as a teacher.
"A few months after the big Vietnamese family, I took a well-travelled couple on tour. I mean, these were real seasoned travellers; they had been all over the world – and had met many tour guides over the years."
"I learned from them – I saw it as an opportunity to learn about other parts of the world and about their previous experiences with guides. In return, I taught them many things about Vietnam and Vietnamese culture. I had the realisation that this was the best way to see my tour groups – as equal partners in a learning exchange. This way, with every job, I could gain a little more information and experience."
As Hai speaks of the dynamic between guide and traveller, of the trip as a mutual learning experience, I feel a sense of familiarity with this mindset. A variation of this sentiment has been expressed by all of the guides I have spoken to.
First, it speaks volumes about the type of experience we offer at Discova, where a deep, meaningful connection with the destination through learning is a priority. Second, it reflects well on the personality types of these guides who, without exception, seem to have an insatiable curiosity to absorb more information about the world around them. This curiosity, combined with an easygoing character, leaves me with no doubt that travelling with Hai as a tour guide would be an absolute joy.
And so, to Vietnam
Hai works for one of our partners specialising in multi-country trips across south-east Asia. Therefore, he works as part of the broader guide team that share their expertise across these destinations, taking turns to 'take the lead', so to speak, and relying on our in-destination teams for assistance.
He grins, "We follow the path of the dragon."
He is referring to a typical route through the countries of south-east Asia that resembles the curve of a dragon. The path goes up through Thailand into Myanmar or Laos, down across the border into Cambodia and then east into Vietnam to travel up its spine to Hanoi and the north. It's a truly spellbinding trip – one which we could dwell on for hours, though I'm not sure I could take the travel envy.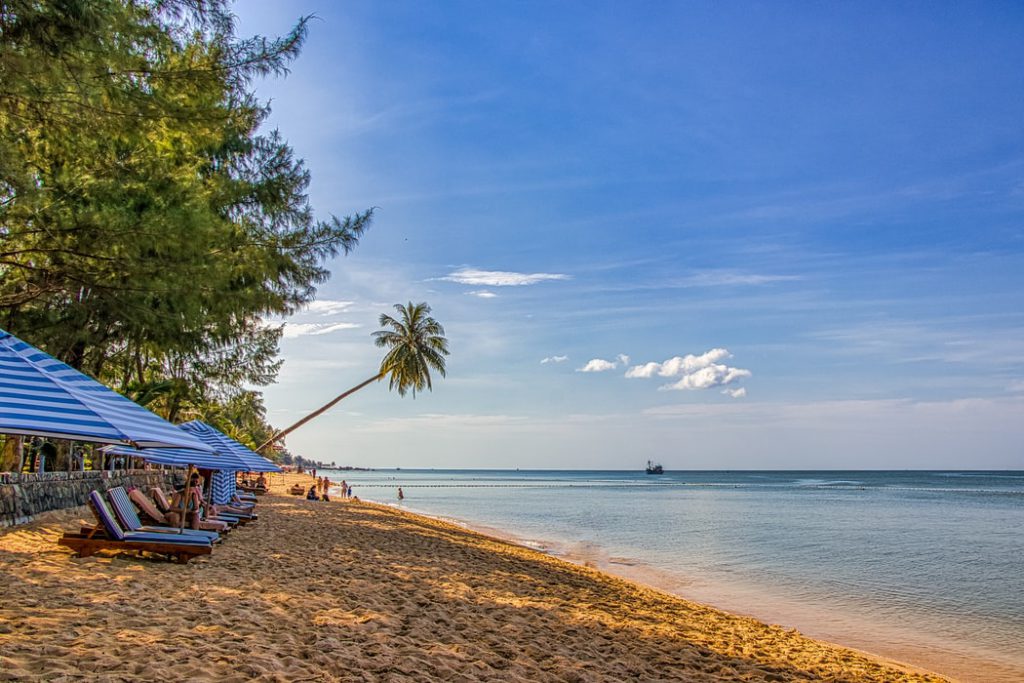 Not what you think of for Vietnam? A stunning beach in Phu Quoc
Instead, I ask Hai for his favourite place on these journeys.
"Vietnam, for sure, and not just because I am Vietnamese!
"For me, it's because Vietnam is just the most incredibly diverse place to explore. Even for me, there is always something new to discover. As we mentioned, the diversity of people, where you can cross a bridge into a new village and everybody is speaking a different language. The diversity of landscapes we have, from the Mekong delta to rice terraces to waterfalls to beautiful beaches. The fascinating culture and idiosyncrasies of our different cities. Perhaps it's because we're long and thin – there just seems to be variety here like nowhere else I know! We offer unrivalled diversity."
The long and thin reference is, of course, related to the shape of the country as opposed to any comment on Vietnamese body shapes. Though, interestingly, that links perfectly to Hai's next advertisement for Vietnam.
"Besides witnessing the diversity of scenery and peoples, there is another clear asset that travellers always love about Vietnam – the food! People find it so delicious they don't even mind putting a little bit of weight on!"
Hai becomes dewy-eyed as he waxes lyrical about the endearing qualities of Vietnamese cuisine.
"Everything is just so fresh and light, with healthy locally sourced ingredients. It can be sweet, or a little spicy, occasionally sour. Deliciously decadent fried things are available too!"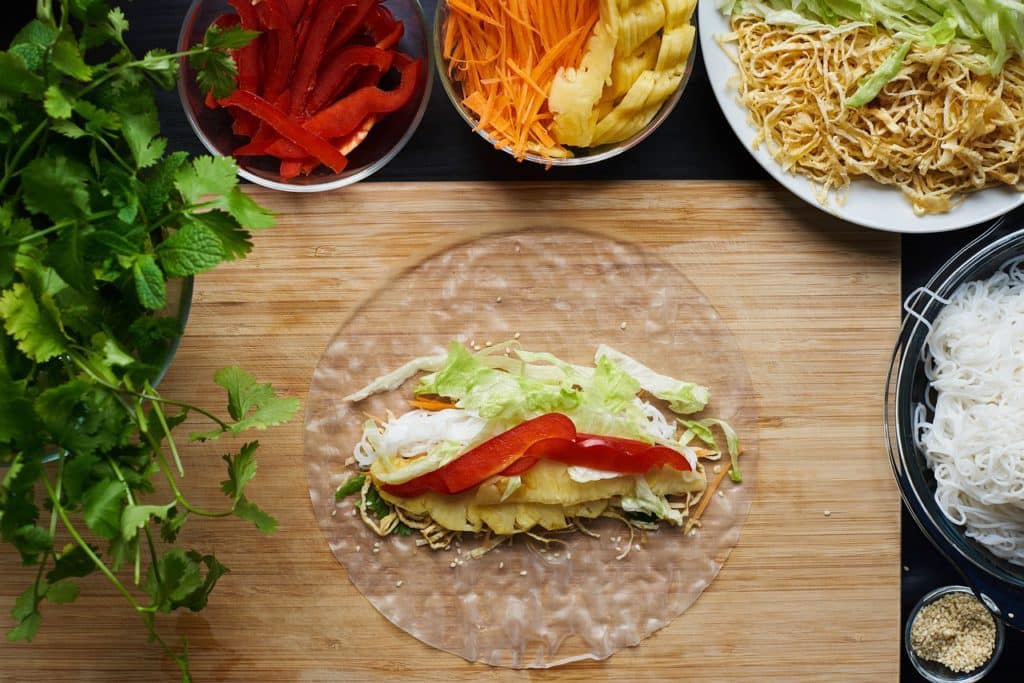 Wonderful summer rolls (goi cuon)
We recently put a spotlight on some of the especially healthy vegan and vegetarian options within Vietnamese cuisine, from Vietnam's answer to the French baguette to pho dishes that pack a punch, from light summer rolls to powerful papaya salads. Reflecting on some of these dishes, Hai and I get sidetracked down this culinary tangent, something that appears to be an occupational hazard.
Conflict Can be Colourful
Hai ruminates on the shadow of relatively recent history – never far away in Vietnam.
"Many people are drawn to Vietnam for its intriguing history – of the Vietnam War for sure but also of the War of Independence with France and that complex colonial relationship."
Many people who visit Vietnam enjoy learning about Ho Chi Minh – the father of modern Vietnam – in Hanoi. They go to the War Remnants Museum in Ho Chi Minh City. They go on historical excursions like Cu Chi – a network of underground tunnels from which Vietnamese fighters carried out their guerrilla resistance.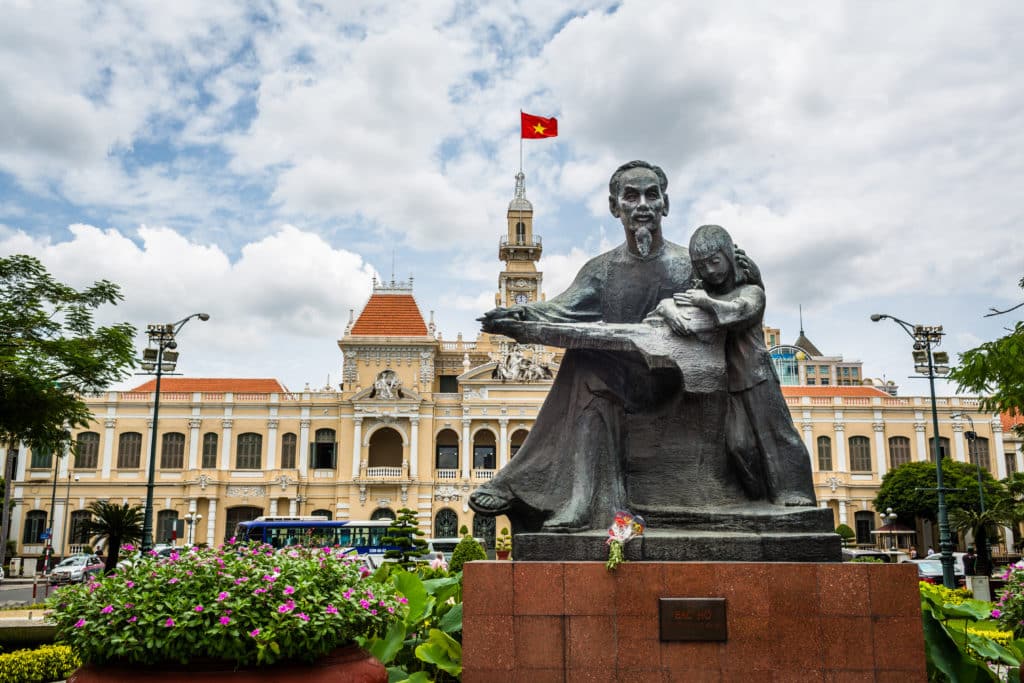 A statue of Ho Chi Minh
"Occasionally, people can have strong opinions about these events and these places. As a guide, I just encourage everybody to look at things from different perspectives and maintain the tone of a neutral third party. Having said that, conflict can be colourful; it can lead to a learning experience. But, there is a fine line here."
"Most often, everybody is reasonable and eager to learn. We get American war veterans coming on tours, and I encourage them to share their experiences and perspectives, and I share my own, too. These can make for fascinating encounters."
A Long Time Coming
You get the impression speaking to Hai that he is a little impatient with the pandemic! He is chomping at the bit to get back out travelling and leading people on tours.
"I take my family on holiday! We sit and watch Youtube travel documentaries. I like to ask my family, 'where shall we go on holiday today, then?'"
He jokes about feeling threatened.
"When people are finally able to travel again, they will have been waiting so long. Travellers to Vietnam may have done so much research – they could know so much! I'll have to be ready with more insights!"
"But, you know, I'm just excited to get back to guiding. I have really enjoyed staying in touch with my fellow Discova guides. We have been doing these Cultural Exchange workshops together online, where we meet up and share stories about our destinations. It's great to learn and keep developing our skills, too, but there's nothing better than the real thing."
"I see a new travelling group as a new story, so I'm looking forward to experiencing new stories again soon."
To hear more about the multi-country itineraries that Hai leads, or to explore further our Vietnam itineraries that focus on learning experiences and showcase the diversity of this fascinating country, don't hesitate to get in touch with our teams.
Learn more about Discova
Geoff Ceasar