Itinerary: Wandering Washington Waterways – Port of Seattle
From Puget Sound to the Salish Sea, Washington's waterways include captivating seaport towns lined with unique shops and restaurants plus historic and cultural attractions. World-class whale watching, kayaking, cycling, hiking, farm-to-table dining, and historic to luxury accommodation await. This itinerary showcases the state's iconic waterways as a fly-drive tour.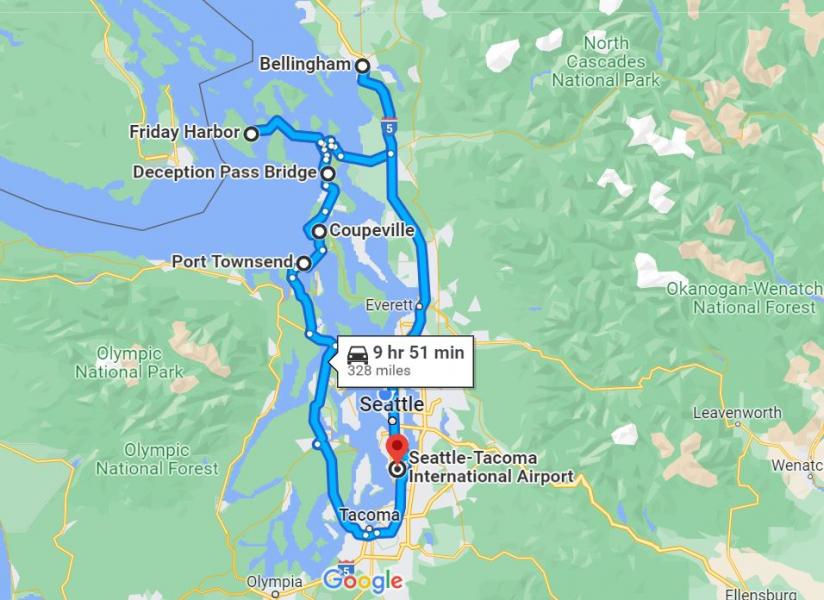 Experience 1: Arrive at SEA Airport
Begin your adventure by landing at Seattle-Tacoma International Airport (SEA).
Download the
FlySEA App
to check security wait times, get an interactive airport map, and find places to dine and shop
Experience 2: Pick up your rental car
SEA Airport has two passenger pick-up areas outside on the lower drive on the baggage claim level. One at the north end (near Alaska Airlines ticketing) and another on the south end (near the international airlines desks) of the terminal.
From there, shuttles will take you and your luggage on a short five-minute to the rental car facility.
All rental car companies at SEA Airport operate at a separate rental car facility, with dedicated shuttle buses operating on a 24 hour a day schedule.
Directions to the freeway when leaving the rental car facility
Follow the overhead signs to exit the facility onto S160th St. 
After turning right on S. 160th St, go up the hill THROUGH the stop light, and take your next right for the on-ramp towards I-5/I-405
Directions to Port Townsend
Follow signs to Interstate 5 South towards Tacoma
Drive 103 miles to Port Townsend; allow 4-5 hours to see the sights
Experience 3: Discover history in Port Townsend
Port Townsend is steeped in fascinating history, from its early Native American roots to its
Victorian architecture and maritime legacy, and is home to two National Historic Landmark Districts.
One is at Fort Worden State Park, a 434-acre former military fort boasting massive natural
beauty; it was the location of the film An Officer and A Gentleman.
The second is the downtown district, where the bars and bordellos were originally housed. Uptown, lovely grand Victorian homes grace the landscape with views of the water and glimpses at its maritime history.
Learn about the city's intriguing history at the downtown Jefferson Museum of Art and History,
where it's rumored Jack London spent the night in the 1890s jail.
If you dare, stay at Manresa Castle, a grand home, now hotel, that is reported to be haunted
Or follow the footsteps of the original Native American people on the Chetzemoka Trail, honouring the S'Klallam leader who welcomed the 19th century European settlers to the area. The trail offers 3-mile, 6-mile and 12- mile loops that can be accessed by car, on foot or by bicycle.
Puget Sound Express is a whale watching tour in its third generation of providing life-changing experiences with some of the most majestic creatures on the planet. They run whale watching trips from Port Townsend
More ideas on where to stay, eat, and shop from Enjoy Port Townsend
Experience 4: Take the 30 minute ferry ride from Port Townsend to Coupeville
Video from Coupeville Chamber 
Experience 5:  Enjoy the heritage of Coupeville
Escape it all with these ideas from the Whidbey and Camano Islands Visitors Bureau:
Idyllic Whidbey Island – known as the Martha's Vineyard of the West Coast – boasts some of the Pacific Northwest's loveliest scenery, complemented by beautiful wooden buildings painted in earth and pastel tones.
Stay a spell in Coupeville, Whidbey Island's second most historic town right on the water, with buildings more than 100 years old
Don't miss the beautiful downtown area and stop for mussels and other delicious seafood.  Take a look at the Top 10 Things to do in Coupeville from Small Town Washington and Beyond
From Coupeville, it's four miles to to Ebey's Landing, a 554-acre National Historic Reserve which includes one of Western Washington's most popular coastal trails
Directions:
From Coupeville, drive north around 20 miles to Deception Pass
Video by Tom Spurlock
Experience 6: Drive across the Deception Pass Bridge
Deception Pass on the island's northern tip is home to the National Historic Site of the Deception
Pass Bridge, with sweeping views of the water and forest.
Directions:
Depending upon which route you take, it's under 11 miles to the Anacortes Ferry Terminal
Experience 7:  Take a ferry from Anacortes to Friday Harbor
The ferry ride from Anacortes to Friday Harbor is around one hour.
Experience 8: Slow way down in Friday Harbor, San Juan Island
Ferry passage from Anacortes is a little over one hour and will take you directly to Friday Harbor, the largest town on the island
Travel & Leisure named the San Juan Islands in the #2 spot for "Top 15 Islands in the Continental US." The archipelago is loved for its dense evergreen forests, breathtaking views from both water and land, plus the abundance of wildlife, including a robust orca population.
Orcas Island was included in the New York Times list of "52 Places to Go in 2019" for its tide-to-table culinary scene paired with experimental wines. USA Today 10 Best Reader's Choice ranked the San Juan Islands #1 as "Best Washington Attraction" for its more than 400 islands and stunning sunsets, pristine wilderness, sandy beaches, and stellar wildlife viewing.
Friday Harbor
Friday Harbor is the main town and gateway to San Juan Island, the most populated island. Historic and just one square mile, the town is walkable and full of great spots to relax and learn.
Here are a few tips and links, courtesy of the San Juan Islands Visitors Bureau.
If you want to escape to a slower pace, you'll be enchanted by Friday Harbor — a charming, historic, walkable seaport just steps from the ferry landing, with small, friendly shops and restaurants, and a refreshing absence of fast-food chains.

In this visitor-, family-, and dog-friendly town, you'll find many of the San Juans' whale and kayaking tour headquarters, The Whale Museum, the San Juan Islands Museum of Art,  the San Juan Community Theatre for plays and musical events, the San Juan Historical Museum, and so much more.

There's no need for a car to see Friday Harbor. Everything is within walking distance of the ferry landing, and it is easy to get around, including shuttle buses and a trolley to take you around the island, as well as bike, three-wheeled Scootcoupe, and moped rentals. From Friday Harbor you can also catch an inter-island ferry to Lopez, Orcas and Shaw Islands. If you do bring your car, use this parking map to find available spaces.
Whale watching
Washington state is home to several species of whales and it's an amazing experience to see
them in their wild habitat. Orcas, also known as killer whales, are as iconic to the
Pacific Northwest as the Space Needle, Mt. Rainier, and the Olympic Mountains. Two different ecotypes — Transient and Resident orcas — live in Puget Sound year-round. There are an estimated 300 Transient orcas that separate into pods and roam the region. The Resident orcas are known and loved in this area because they've been here for generations, from calves to parents to grandparents and even great-grandparents. The Transient orcas are newer to the Sound.
Directions:
Take the ferry from Friday Harbor to Anacortes
From the ferry terminal, head to Interstate 5 North and drive 40 miles to Bellingham
From the Bellingham Experience
Experience 9: Explore Bellingham's outdoor paradise
Visit Bellingham, Washington and surrounding Whatcom County for abundant nature, outdoor adventure, and sweeping scenery from the Salish Sea to Mt. Baker and North Cascades National Park. Enjoy farm to table menus, craft brews, family moments, a vibrant arts scene and charming historical treasures.
Bellingham is an outdoor lover's paradise known for abundant nature, epic adventures and sweeping scenery. Here you can sea kayak in the morning and go hiking in the mountains in the afternoon. Here are a few tips from the Discover Bellingham and Whatcom County Visitors Center:
Mountain bike on Galbraith Mountain, ranked among the "Top 10 Places to Ride in the US" by Singletracks Magazine.
View wildlife
Cruise to views
Experience the best of the Northwest on the Chuckanut Drive Scenic Byway and stop for oysters
Head for the hills on a leisurely drive up Mt. Baker Scenic Highway. At Glacier, the road passes into the evergreen framed Mt. Baker-Snoqualmie National Forest, a National Forest Scenic Byway.
Take a hike
Year-round hiking opportunities are abundant, with hundreds of miles of trails to explore along with city parks and greenways, where both water and mountain views are plentiful.
Directions:
Drive south 102 miles on Interstate 5 from Bellingham to Seattle-Tacoma International Airport
Experience 10: Return to SEA Airport
Drop your car off at the SEA Airport Rental car facility and take a shuttle bus to the main terminal for ticketing
Pro tips:
Take the nearest escalator or elevator to the 5th floor of the Facility near the customer service center
Rental Car shuttles pick up on the OPPOSITE side of the facility from where you were dropped off. (Located near the colorful spinning circles )
Shuttles operate 24 hours a day, 7 days a week. Please board the next available shuttle. If a shuttle is departing as you approach, please wait for the next shuttle which should be arriving shortly
Shuttles drop off on lower drive outside of baggage claim at the north end (near Alaska Airlines) or at the south end (near the international airlines) of the terminal
To reach your airline's ticket counter, take the nearest elevator or escalator up to the ticketing level
Be sure to arrive at the airport at least two hours before your boarding time; more with your vehicle return
Download the FLYSEA app for checkpoint wait times and find a restaurant
On your way home, check in to SEA Spot Saver to get an assigned check in time and skip the security line
Enjoy your trip home!
Geoff Ceasar